As the official event "Collect Card to Share $50,000 Bonus" ends on ViaBTC's website, the sixth anniversary event that lasted over 40 days is drawing to a close. During this period, ViaBTC celebrated its 6th birthday with thousands of crypto enthusiasts sharing joy and gratitude to those who have supported, believed and supported ViaBTC over the past six years.
Do you remember that beautiful moment when you first met ViaBTC in the "Share Your ViaBTC Memories" event? The ViaBTC story began in June 2016 when founder Hypo Yang completed all the coding and deployment of the ViaBTC pool in just two months, bringing it to normal users. So far, ViaBTC has achieved one creative breakthrough after another, marking the collective memory of both this pool and its users during their journey of growth.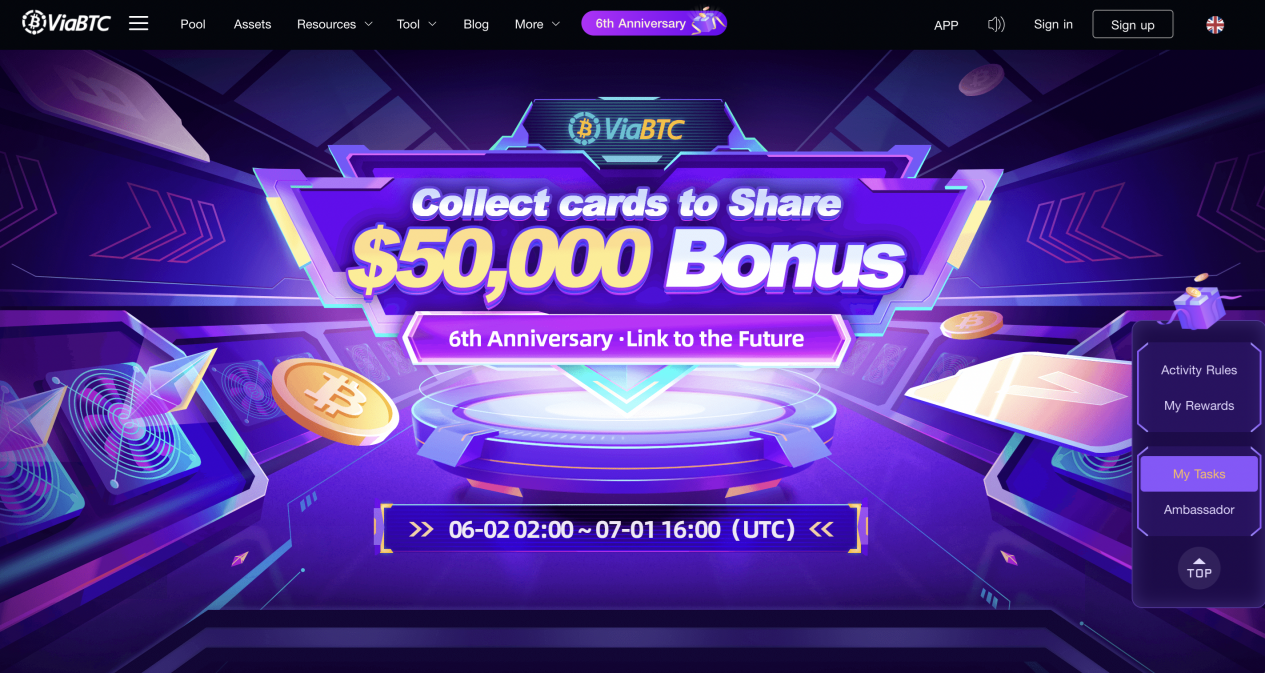 Have you ever felt ViaBTC's efforts to keep up with the crypto world through the phenomenon "BTC prices you don't know"? The ViaBTC pool was born when bitcoin just hit a low of $500. In those days, the public bombarded this cryptocurrency and blockchain, and was pessimistic about its future. Nevertheless, committed to its mission of "making the world a better place through blockchain", ViaBTC is focused on providing better mining services for users with concerted efforts.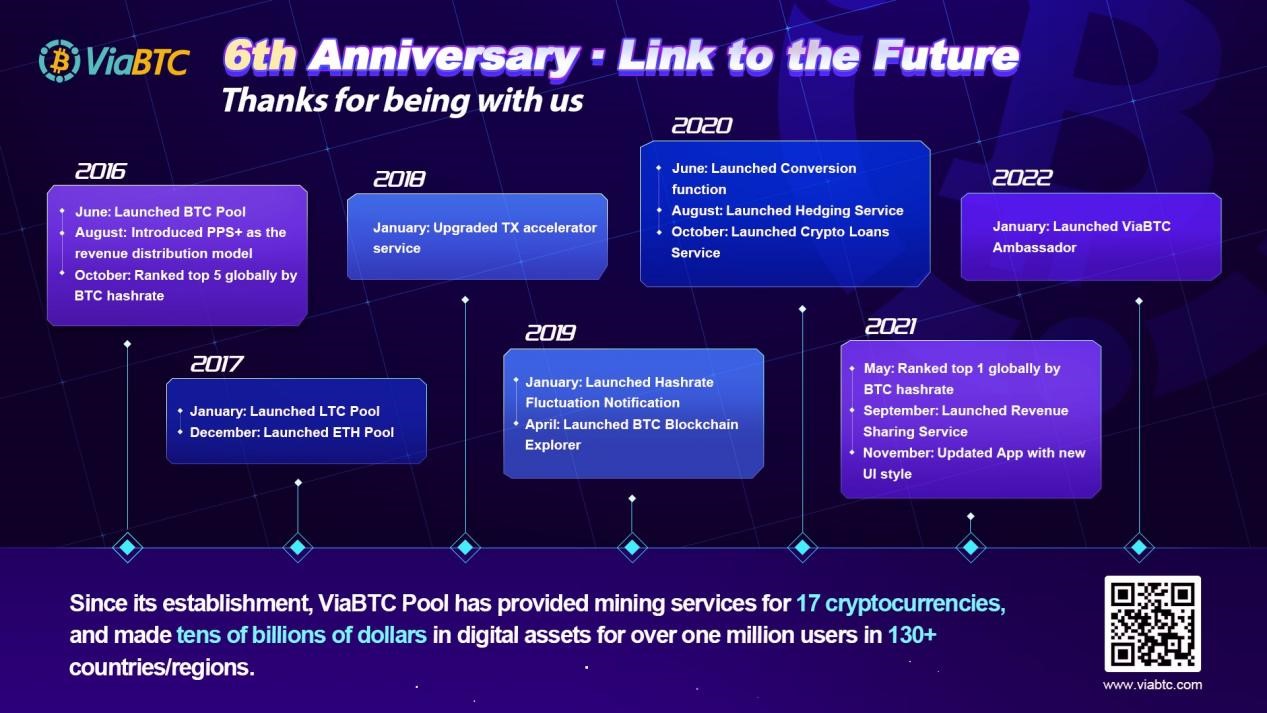 So when Bitcoin and the entire crypto world boomed, ViaBTC has already become the world's top comprehensive crypto mining pool. With mining services for dozens of cryptocurrencies including BTC, ETH, and LTC as well as innovative financial products, it provides a secure and stable one-stop mining service to over a million users in over 130 countries/regions around the world. does.
Were you impressed by the "V", "i", "a", "B", "T" and "C" cards, "Collect Cards to Share a $50,000 Bonus"? The event officially started on June 2. Users can join the lottery for a $50,000 bonus sharing after collecting six cards of "V", "I", "A", "B", "T" and "C". each with distinctive features.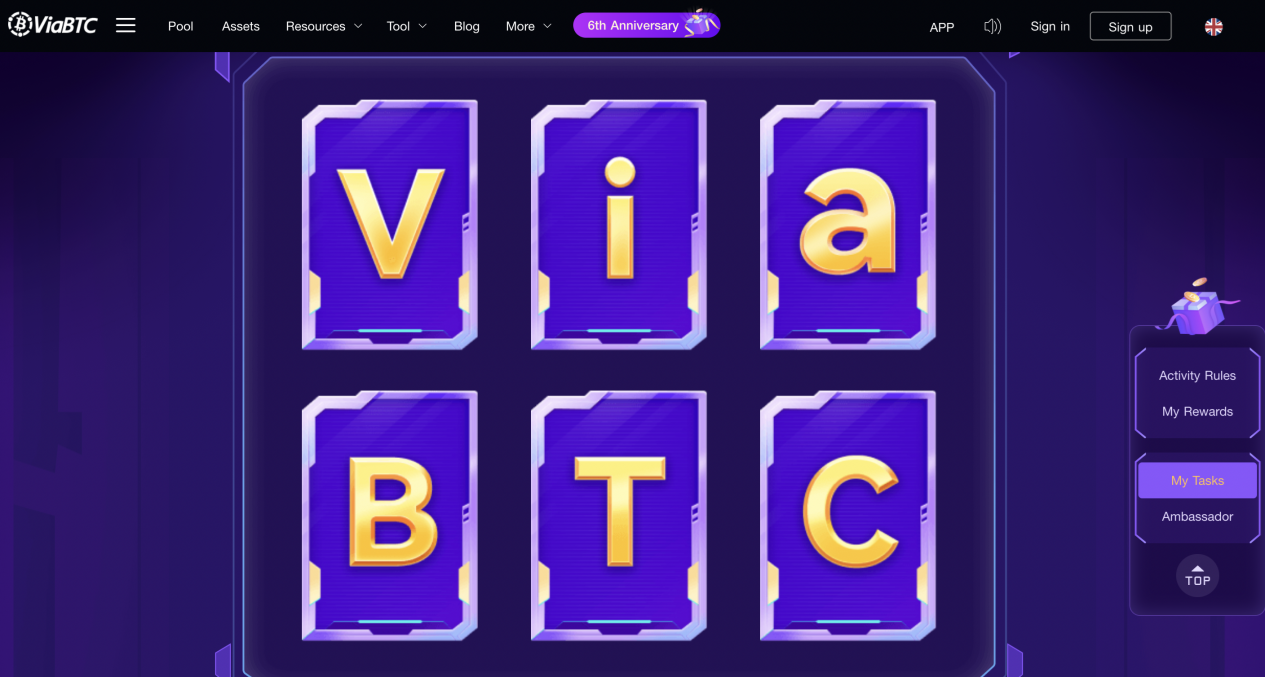 Many of you may have noticed that each card once clicked presents an introduction to the unique features of ViaBTC. Over the past six years, ViaBTC has rolled out a number of premium innovative features including transaction acceleration, smart mining, hedging service and crypto loans, auto conversion, revenue sharing and auto withdrawal, aimed at providing users with secure, stable, efficient, convenient To do. , and user-friendly products and services.
Have you regained your commitment and confidence in the crypto industry against the recent market downturns through the letter "Born with Faith, May We Stand Fearless Together"? The crypto world is still in its infancy, so the road ahead must be full of thorns, which has scared many users and pushed out many institutions in the early days. The crypto world still has a long way to go, and ViaBTC will also face many difficulties and challenges in the future. Despite this, we have always believed in the bright prospects of blockchain, and will not step forward in the face of market volatility.
The sixth anniversary event has come to a successful conclusion, yet for ViaBTC, a new journey has just begun. Instead of being satisfied with bitcoin mining service alone, we have provided 17 mining services, covering most of the mainstream PoW cryptos in the market; With ambitions beyond the mining pool business, we have established five major business segments spanning mining pools, exchanges, wallets, CSCs and investments, all of which constitute a ubiquitous ecosystem covering products, instruments and investments .
ViaBTC has endless possibilities in the future. Dedicated to the mission of "making the world a better place through blockchain", we will catalyze the innovation and progress of the blockchain industry through advanced fintech, and create another six years of glory in the new era of users. will shake hands with. Blockchain.