It appears that GALA is in a three-week price consolidation phase. The coin has shown great resilience during this period, and it could be poised for a very decisive bull run. However, this is a long entry position that requires a little patience. Here are the main things to keep in mind:
GALA's consolidation maintains bearish pressure despite market adversities

The coin may break and swing up to 54% in the green

However, it may take a few weeks for this to materialize.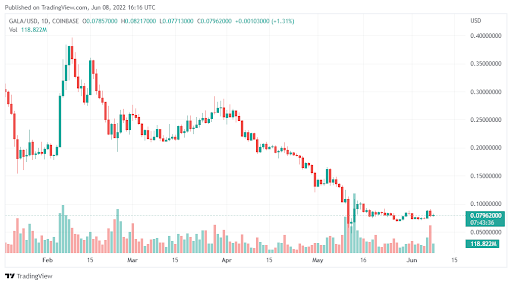 Data Source: TradingView
Gala: The Long Game for a 50% Return
One thing we've learned about Gala over the past month is how flexible it can be. Gaming and Metaverse coins didn't have a good year. But after a sharp decline, GALA has managed to recover and maintain a three-week price consolidation phase. The coin is now facing a decisive breakout, and here is why.
Firstly, all technical indicators suggest that a bull run is on the cards. The RSI reading is in the bullish zone while price action is above the 20- and 50-day EMAs. Also, the sentiment in the market is turning positive now.
If these conditions persist in the coming weeks, GALA is likely to increase by up to 54%. This bounce will also push the coin above the crucial psychological area of ​​$0.12. Furthermore, GALA remains above several support areas, so downside risks are minimal for now.
HOW TO ENTER THIS GALA SETUP?
As mentioned above, the Bullish GALA setup is long-term. In fact, we expect some volatility in the middle as the coin tries to rise to $0.12.
Therefore, if you want to enter this setup, you will need to take a long position. Some of these benefits can be felt in a month or so. This requires patience and business discipline.