When Terra rebranded into Terra Classic, there was a little funky fare. But investors didn't really buy into the idea. As a result, Terra 2.0 fell through shortly after launch. The coin has lost 85% of its airdrop value. But there's an opportunity for Luna to deliver truly astonishing short-term gains. Here are the highlights.
After heavy volatility, LUNA has established a strong support at $3.5.

The coin has also established a trading range between $3.5 and $10.25.

We expect this range to become operational in the coming weeks.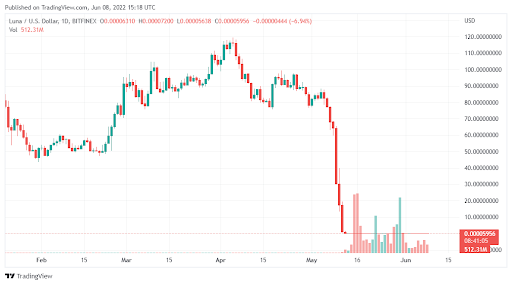 Data Source: TradingView
How LUNA can provide 4x growth
Our thesis on LUNA's short-term bullish setup is based on the range mentioned above. You see, despite facing massive volatility, the coin has established a consistent range between $3.5 and $10. Moreover, $3.5 is now the strongest support area, and LUNA has managed to hold the price above it despite massive selling pressure.
A consolidation phase is now underway, and LUNA could easily retest the $3.5 to $10.25 range in the coming days. This will give a profit of around 3x from the current price. However, we don't think $10.25 will be the end of everything.
If LUNA is able to achieve double digits within a short span of time, it could trigger excessive demand which could lead to higher returns. Furthermore, there is very limited downside risk to this setup. Even if LUNA loses the $3.5 support, we expect it to jump back up in no time.
Long term prospects of LUNA?
The volatility around LUNA is not going to subside anytime soon. However, we expect the price to be slightly higher in the range of $3.5 and $10.25.
LUNA is likely to remain within this range for a few months before it gains any serious upward movement. The good news, however, is that the downside risk has come down slightly.