Ethereum has slipped again on its charts at the time of writing. During the past week, the coin lost almost 10% of its value. The bears have strengthened in the market as buyers have left the market.
The technical outlook of the coin was bearish and selling pressure persisted. The coin will remain like this in the next trading session.
The coin witnessed continuous selling in the last 48 hours. Ethereum broke below its long-term support line at $1,900. The coin tried to correct itself over the past 24 hours, but bearish price action is still strong at the time of writing. The bears are likely to exert pressure to push the coin below the $1700 price mark.
A fall below the $1700 price mark would see ETH decline further by 19%. To give relief to the bulls, ETH needs to trade above the $1900 price mark again.
Ethereum Price Analysis: One Day Chart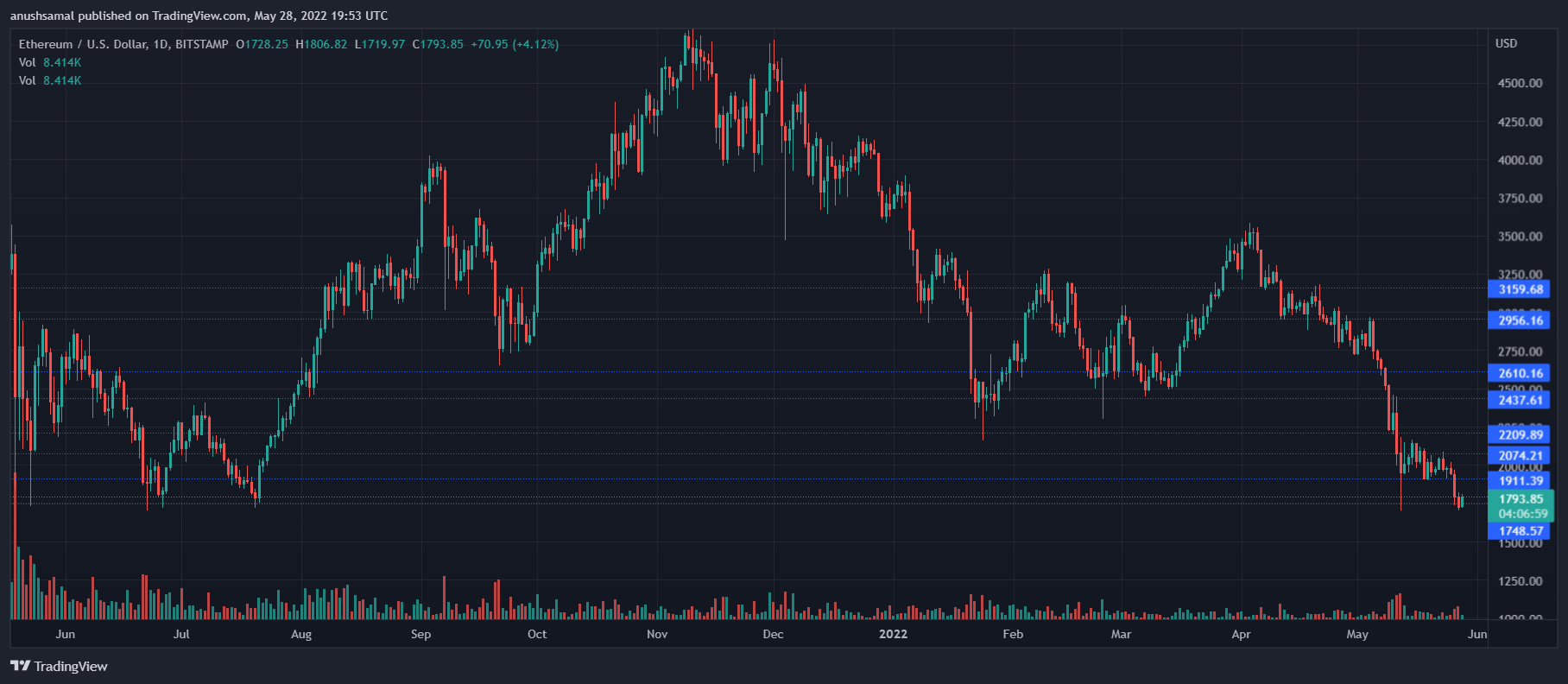 The price of the altcoin was $1793 at the time of writing. The altcoin hasn't traded near this price level in almost a year. The overhead resistance of the altcoin was at $1900, invalidating the bearish pressure the coin has to attempt to trade above $2200.
The local support for the coin was at $1700 which is likely to trade down if the bears continue the price action. The coin traded decreased in volume and was seen in the green. This indicated a positive on the chart.
technical analysis

Ethereum was trading very close to the immediate support level. The coin was trading below the 20-SMA line, which meant that selling momentum was active and strong. This reading meant that sellers were in charge of price movement.
Correspondingly, the Relative Strength Index was below the halfway line. This means that there was less buying power in the market. However, it can be noted that the RSI has risen, which could be a sign that buying momentum is on the way.
The possibility of a reversal cannot be ruled out as there is a bullish divergence on the chart (yellow). A bullish divergence is related to a trend reversal.
Related Reading | Bearish Indicator: Is Bitcoin Heading To Its 9th Red Weekly Close?

Awesome Oscillator was still negative on the one day chart. The indicator is considered to be showing price movement, with red histograms showing negative price action. The red histograms also indicate a sell signal on the chart.
The Directional Movement Index also dictated the overall price movement, indicating that the -DI was above the +DI level. The Average Directional Index (Red) was above 40, which meant that the current market trend was strong and bearish may continue in the next trading session.
Related Reading | Ethereum Profitability Drops to 2-Year Low as Price Drops Below $2,000