Ethereum fell over 8% in the last 24 hours as the crypto bloodbath continues. The bears are in control of the market as the coin is moving very close to the $1000 price level. The major sell-off has also affected bitcoin in a big way as the crypto has fallen by over 33% in the past week alone.
Due to this other market movers have also faced heavy losses on their respective charts. Ethereum lost its support at $1300 and is now eyeing $1000. Buyers are out of the market as the coin is selling excessively.
The global cryptocurrency market capitalization today stands at $950 billion, down 3.7% over the past 24 hours. The trading volume of the coin has also increased significantly in the last one day.
Ethereum displayed considerable volatility over the past few days as the coin traded between $1600 and $1200 respectively. Now, ETH may not see a price correction in the immediate trading session if the market sell-off continues.
Ethereum Price Analysis: One Day Chart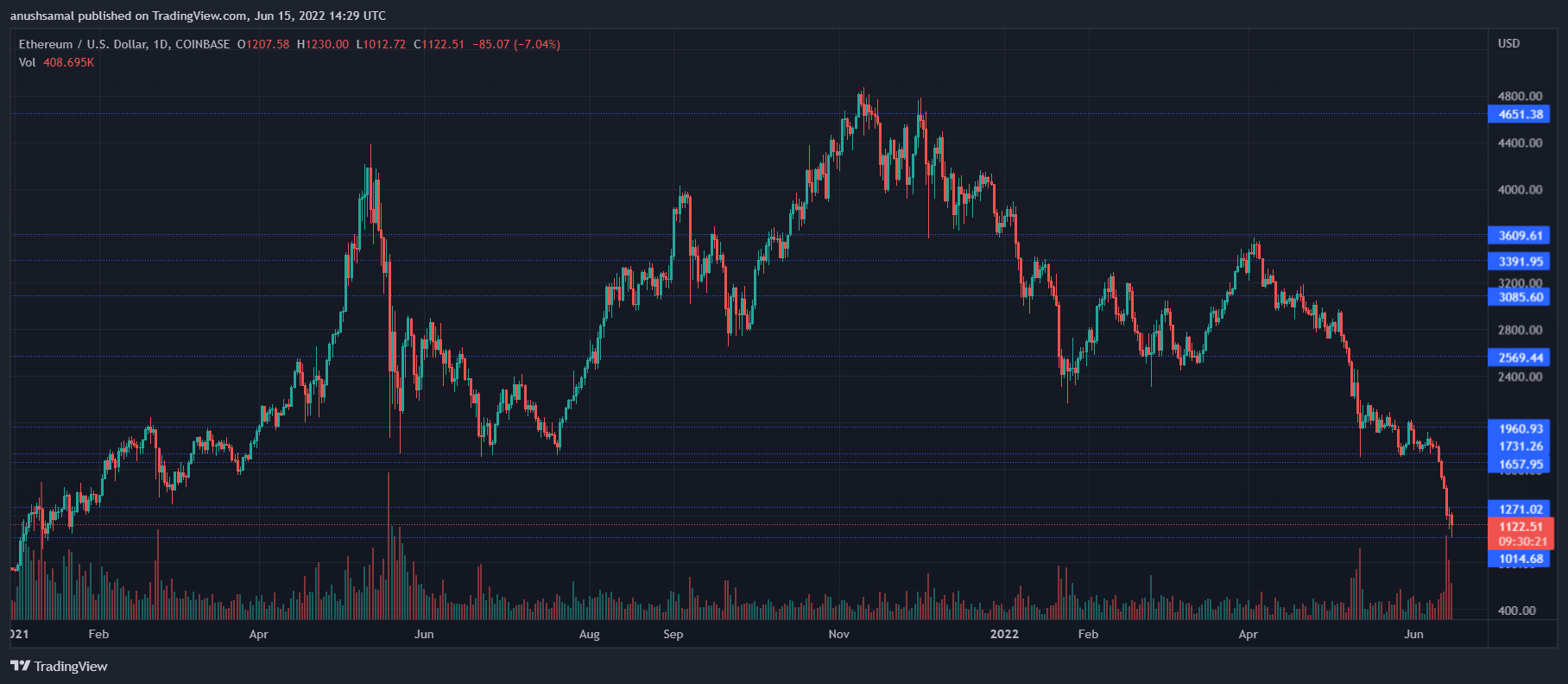 ETH was trading at $1,122 on the one-day chart. The coin last traded around this level in late January 2021. For the coin this point started a rally in the past where the coin had risen and traded above $4000.
A pull from sellers could potentially drag Ethereum below the $1000 price level. The immediate price support level of the coin was $1014.
The trading volume is seen in red and indicates bearish control in the market. The resistance of the coin was at $1271 and then at $1600. Buyers' entry could help ETH revisit $1200.
technical analysis

The selling power increased tremendously after the coin's fall. The relative strength index also touched its lowest level in the year, which meant a massive sell-off in the market.
The RSI was set below the 20-mark, which indicates that sellers have taken over the market. The price usually corrects after a major selloff.
Other technicalities on the chart, however, point to a bearish price action, so it is difficult to know when and how soon ETH will break out of the bottom.
Similarly, ETH price was trading below the 20-SMA and this also meant that the market was in favor of the sellers as they were driving the price momentum.
Related Reading | TA: Ethereum May Fall Below $1,100, Bears Are in Control

As per other indicators, the moving average convergence divergence has also shown a negative reading. MACD shows price momentum and changes in the same. The indicator underwent a bearish crossover and the histogram flashed red.
The red histograms were increasing in size which were a sell signal for Ethereum. Chaikin Money Flow shows bearish, it means that capital inflow was negative compared to outflow. This indicated a huge bearish price action in the market.
Related Reading | Ethereum Falls Below $950 on Uniswap Overnight – Here's Why