Top 5 Altcoins to Watch in November 2022: Ethereum is one of the top altcoins to watch out for. ETH price broke a descending parallel channel and it is approaching an important resistance area at $1,710.
Chillies (CHZ), Filecoin (FIL), and Merit Circle (MC) have also broken above the descending resistance line, possibly indicating that their correction is complete. Meanwhile, Quant (QNT) is nearing the end of its correction and is in the midst of a fourth-wave pullback.
Ethereum (ETH) completes a price correction
Price: $1,553.91
Market Cap: $190 billion
Rank: #2
On September 21 and October 13, ETH price rebounded at the $1,270 horizontal support area (green sign). The second bounce created a very long bottom wick, which is considered a sign of buying pressure.
The price of Ethereum has been rising since October 23 and its growth rate has accelerated. Two days later, the altcoin broke out of a descending parallel channel it had previously held since Aug 14. A breakout from such a long-term structure is usually a sustained upward move for the ETH price.
Furthermore, technical analysis indicators support the breakout. The daily RSI has also broken above its descending resistance line (green) and moved above 50. Both of these are bullish trend signals.
Now, the main resistance area for ETH price is $1,713. This is the 0.618 Fibonacci Retracement resistance level and a horizontal resistance area.
If Ethereum price manages to move above this, the rate of increase could be very rapid, causing ETH to rise above $2,000.
On the other hand, a daily close below the $1,270 support area would invalidate the bullish ETH price prediction. If this happens, it could mean that this altcoin will drop to a new yearly low.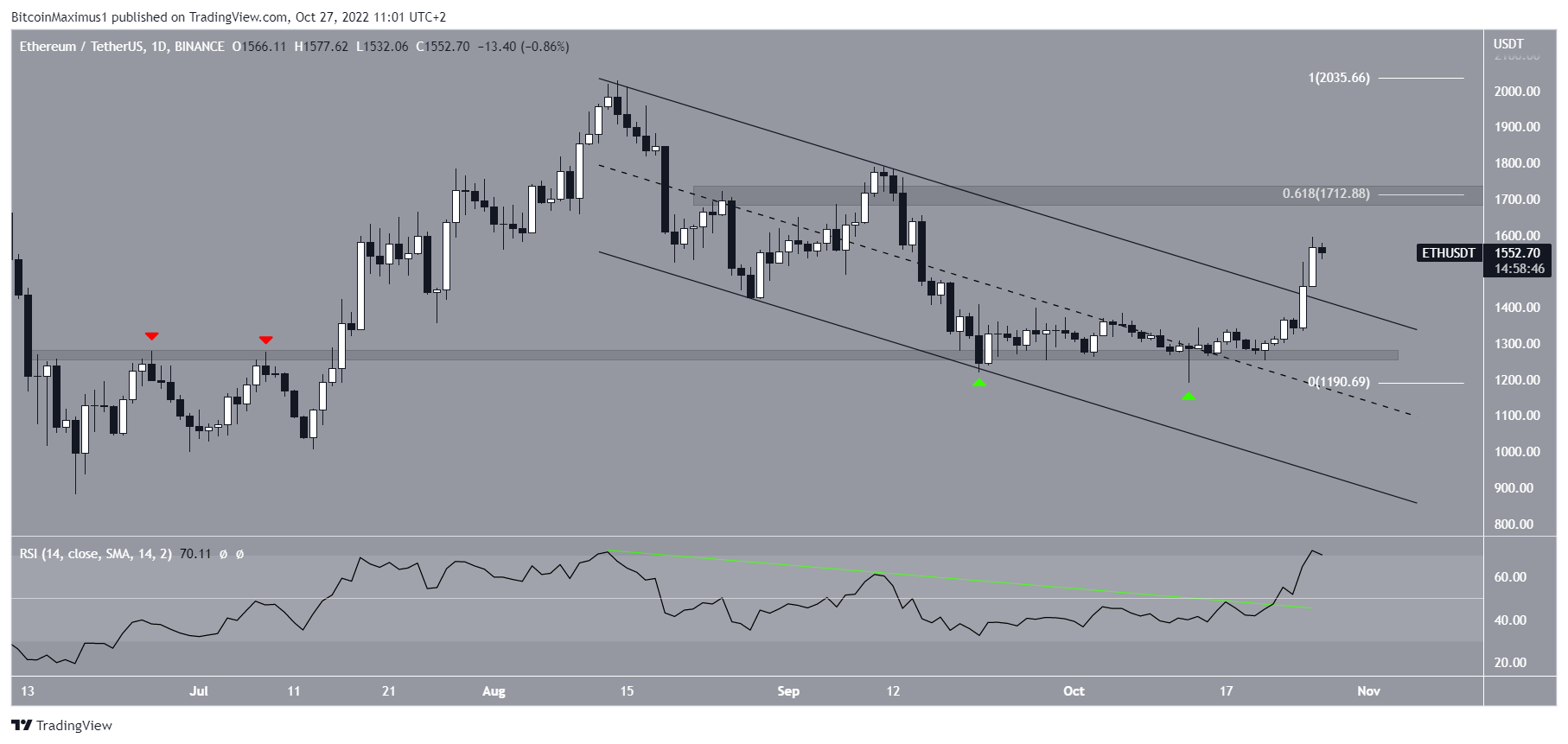 Filecoin (FIL) Price Begins Uptrend
Price: $5.36
Market Cap: $1.64 billion
Rank: #35
FIL is another top 5 altcoins to watch in November 2022. Filecoin price was falling below a descending resistance line since August 1. The downside movement led to a low of $4.73 on October 13.
The daily RSI is forming a bullish divergence (green line) since the beginning of September. The divergence led to an upward move, and on October 22, the price of Filecoin broke the line. It has been increasing ever since.
If the upward move continues, the main resistance area will be $6.50 for the FIL price.
The Lotus Summit, which will answer questions about the Filecoin roadmap, the Lotus project and the team behind it, will be held on 2 November. Increased attention around the event could have a positive effect on Filecoin price and could aid in a potential breakout above $6.50.
There is a clear lack of resistance above the $6.50 area. Consequently, if Filecoin price manages to break out, it could rise all the way to $11.20.
Since the breakout started after a low of $4.73 low, a fall below that level would defy the validity of the breakout and take the altcoin to new all-time lows.
Chiliz (CHZ) price broke after the bounce
Price: $0.20
Market Cap: $1.21 billion
Rank: #44
Chiliz is another top 5 altcoin to watch in November 2022. CHZ price has been trending upwards since forming a long lower wick on October 13th, validating the $0.16 support area in the process. This is both the 0.618 Fib retracement support level and the horizontal support area.
Soon after, chilli price broke the descending resistance line and hit an all-time high of $0.21.
However, the bullish reversal is yet to be confirmed. This is because the daily RSI has not broken out of its bearish divergence trend line (green) and is below 50. Additionally, the price of CHZ has declined in the last 24 hours.
If the daily RSI breaks out of its bearish divergence trend line and finds support above 50, it would confirm that the correction is complete.
Since it is still possible that the downside was only part of the correction, a break below the June low of $0.081 is needed for this altcoin to invalidate the bullish hypothesis.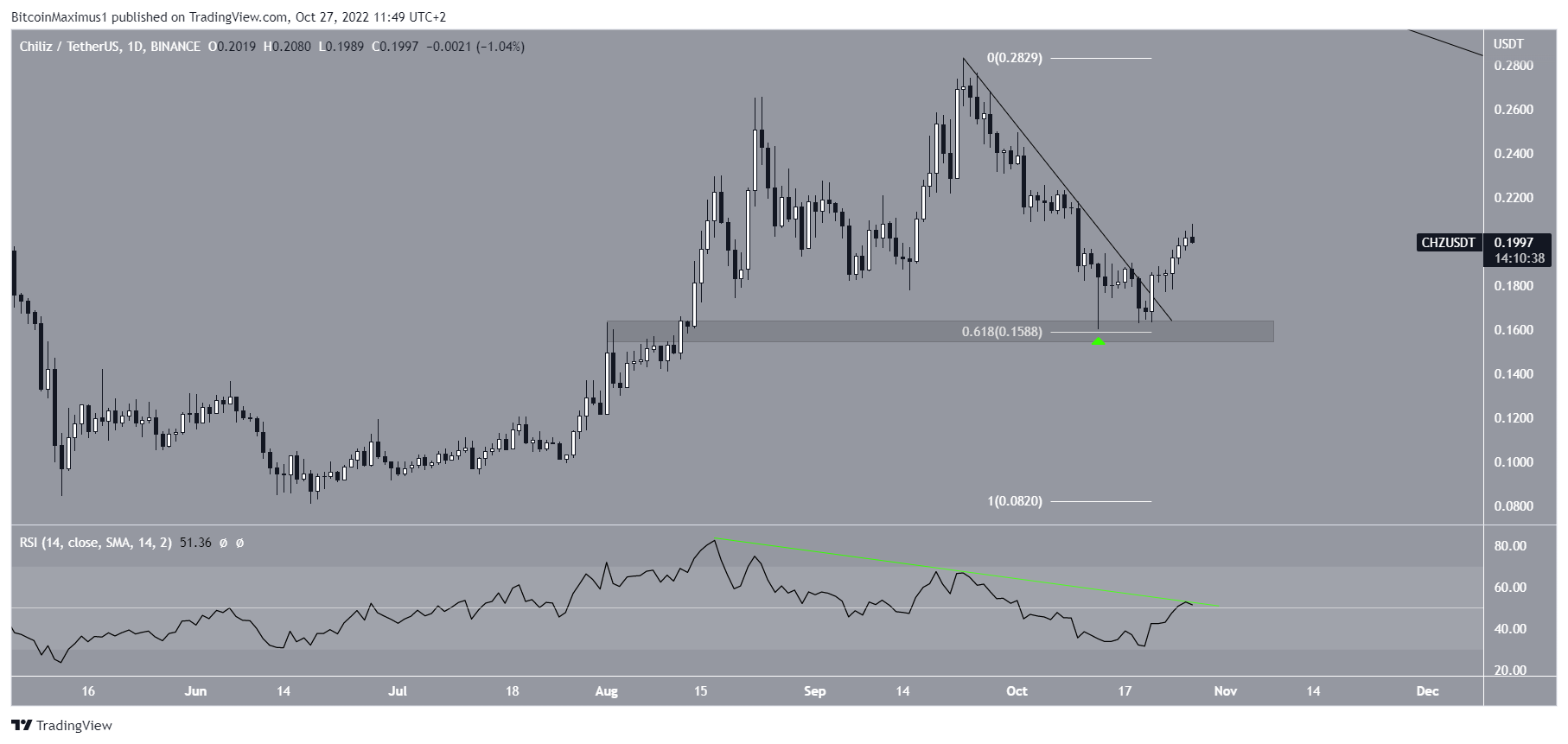 Quant (QNT) Price Completes Fourth Wave Pullback
Price: $173.82
Market Cap: $2.09 billion
Rank: #32
On October 15, QNT price broke out of an ascending parallel channel and reached a high of $228 two days later.
Quant price has been declining since it appears to be a pullback to the fourth wave.
The most likely way of completion of a correction is near $160 (red circle), which coincides with the middle of the ascending channel. After the correction is complete, there is a possibility of another upward move which takes QNT price above $230. Potential high quant will be below the price's all-time high of $200
A lack of highs (red line) at $133.30 below the wave would invalidate the bullish volume prediction and suggest that new lows are in store. In that case, the altcoin could revisit the $90 level, from where the current rise has accelerated.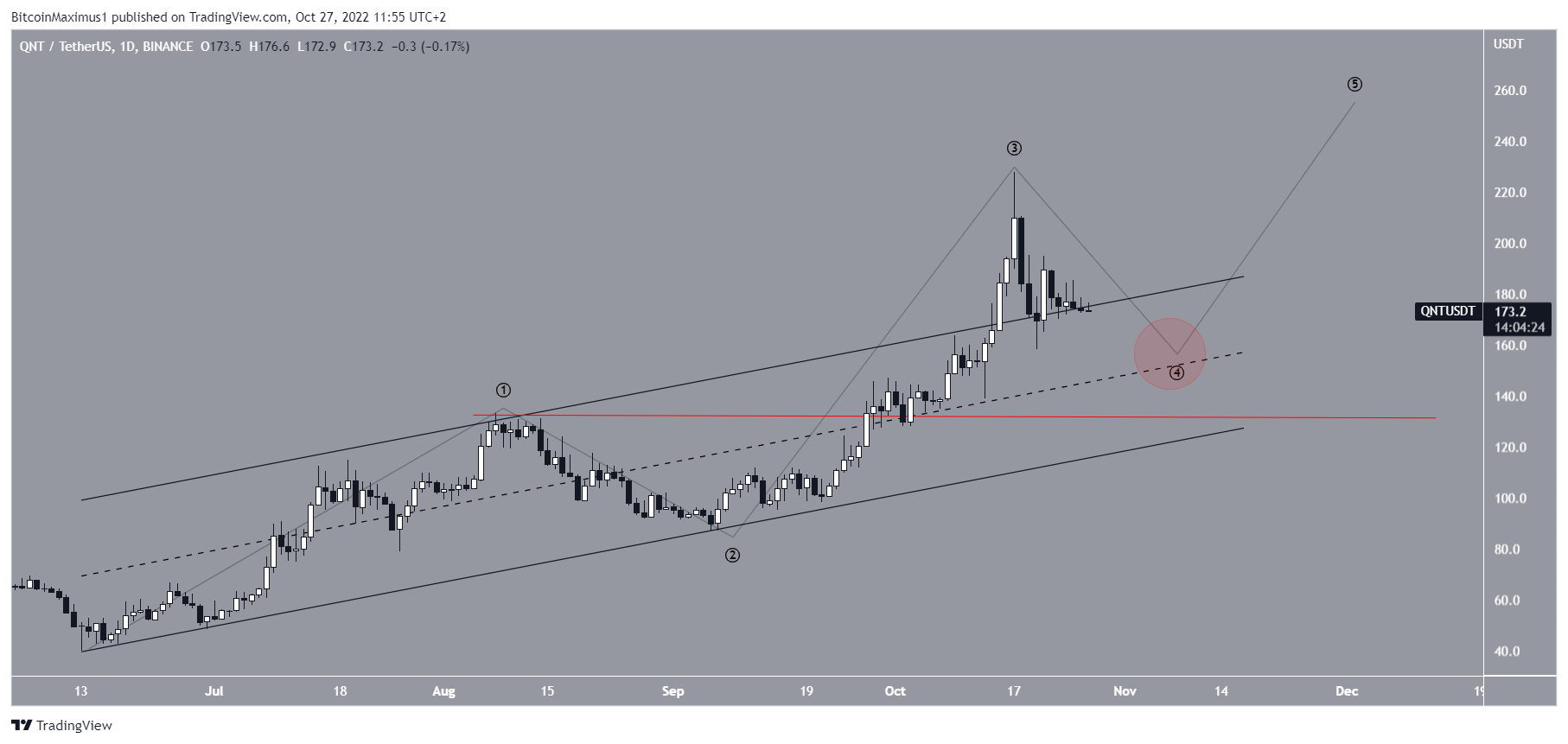 Merit Circle (MC) price breaks above resistance
Price: $0.76
Market Cap: $32.71 million
Rank: #453
Merit Circle is the last top 5 altcoins to watch in November 2022. MC price was moving below a descending resistance line since June 6. After the daily RSI generated a bullish divergence, MC price finally managed to break above the 23rd October. Later, it began a very rapid upward move, but failed to sustain it, leaving a long upper wick.
The daily RSI is now well above 50, which supports the continuation of the upward movement for the Merit Circle price.
The nearest resistance area is $1.18. If MC price manages to move above this, it could rise sharply to $1.95 due to lack of upper resistance.
second version of the bet will launch on 7 November. it will offer two core Pools: One-way staking pools for MC and MC/ETH pools. The latter will receive an 80% liquidity mining reward due to the high risk of temporary losses.
However, if MC breaks below the prior breakout level of $0.57, the breakout will become invalid. In that case, the altcoin would drop towards a new all-time low.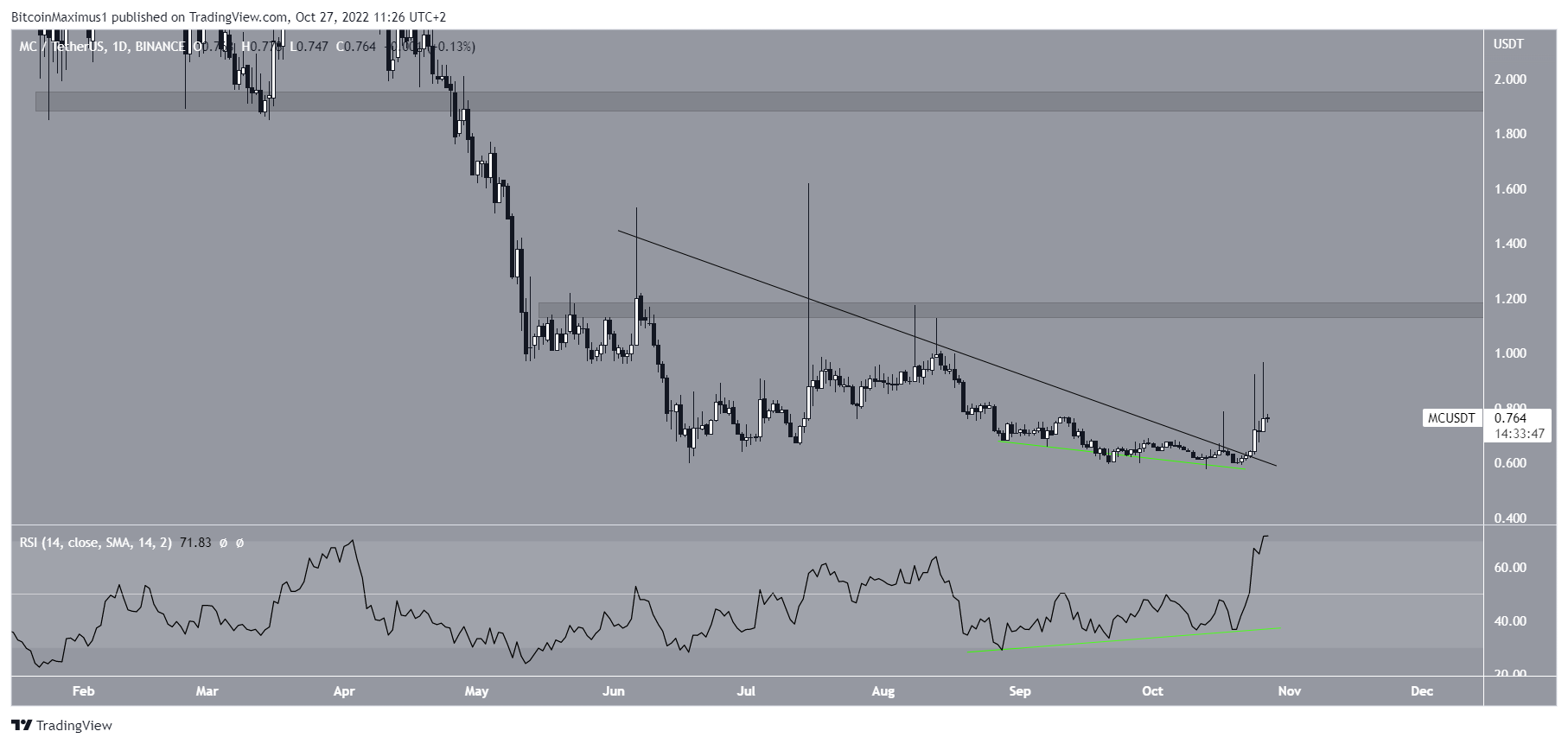 For the latest BeInCrypto Bitcoin (BTC) and Altcoin Analysis, Click Here
Disclaimer: BeInCrypto strives to provide accurate and up-to-date information, but will not be responsible for any missing facts or incorrect information. You comply and understand that you should use this information at your own risk. Cryptocurrencies are highly volatile financial assets, so do the research and make your own financial decisions.
Disclaimer
All information contained on our website is published in good faith and for general information purposes only. Any action taken by readers on information found on our website is strictly at their own risk.