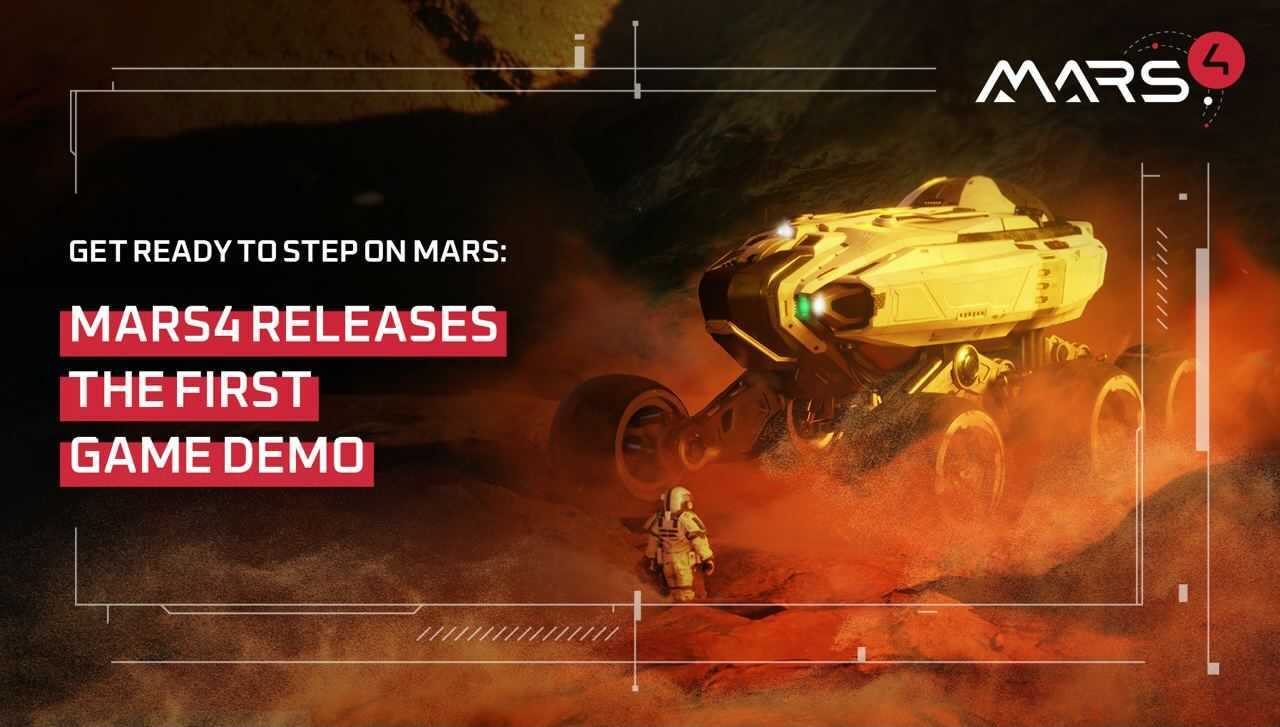 The first demo version of Mars4, a play-to-earn survival game, is now available for NFT holders to experience.
Players will be able to master fundamental concepts in the game and build their first Mars station. To add to the excitement, Mars4 will hold a construction contest: build, submit and win prizes!
Mars4: Bringing the Fun to NFT Gaming
Crypto games have often been criticized, most of which have been labeled as bland.
The Mars4 Project seeks to develop an entertaining and interesting game. This is AAA Player Vs Environment game with scientifically inspired setting.
In the game, you mine for materials, locate your possessions for the ideal location for your station, and develop various structures to improve your chances of survival. Be a leading colonist in Mars4 and terraform the area around you, collect houses, and earn money playing the game.
Mars4 is similar to traditional games, but it also has a play for money component, which gives it the best of both worlds.
Mars4. from nft
You can buy a piece of Mars land as NFT through Mars 4. Afterwards, you will be able to locate your assets in the game. Since data from NASA was used to make all the land NFTs on Mars, they are similar to the Red Planet there.
Other in-game NFTs will be introduced in the near future. They will include various items such as vehicles and avatars (colonists). These assets will help gamers to earn more and more quickly.
How can you benefit from Mars4?
You can earn from Mars 4 in two ways: passively and actively.
Income from a community pool, a revenue-distribution tool, is an example of passive income. MARS4 dollars are constantly being added to the community pool from multiple sources such as sales, in-game transactions, and advertising.
Landowners have the option of opening a community pool and sharing the pool's contents among themselves. Your share in the community pool is determined by your productivity score, which increases as a result of your investment in Mars 4.
Having more NFTs (in-game and land) will result in more income for you.
The game itself is a source of active revenue. For example, you can exchange various materials and complete objectives for other players to earn MARS4 dollars from the game.
For example, using your vehicle NFT, you will be able to transport resources around the planet for other players.
Play-to-earn: a bright future that will soon be here
Many NFT games are still in the early stages of development, with questionable development timelines. This comes as no surprise as the NFT game development trend has emerged recently.
Developing a game requires a great deal of time, resources, and specialist expertise, so many NFT games are still in the early stages of production.
This is where Mars4 shines: You can test out the game demo right now. The game demo allows you to use your creativity to design any structure you want on Mars. The best creations will be honored and rewarded during the creation competition organized by Mars4.
Mars4 is a community-driven project that will proceed in a manner chosen by the players, therefore, the makers are looking forward to hearing feedback from players.
Mars4 aspires to be a DAO or Decentralized Autonomous Organization, thus, many customizations will be made based on the reviews of the players.
Mars4 is making significant progress in developing an immersive Mars metaverse experience with blockchain integration. The release of the final game is planned for next year.
Before the full blown metaverse, the Mars4 team is planning to produce a game version. This is done to gather feedback and help early investors master the mechanics of the game.
Mars4 is an example of Web3 as it provides the tools for participants to take control of the project and profit from it. It blends the fun factor of traditional gaming with the play-to-earn mechanism invented by blockchain technology to produce the best of both worlds: an engaging AAA game that allows players to earn.
It is launching the first game demo and is dominating the P2E market as other games are still in the early stages of development. Now is a great opportunity to join the fast growing community and be the first to play Mars4 game.
To make it even more exciting, it will host a building competition in which any landlord can participate.
Disclaimer
All information contained on our website is published in good faith and for general information purposes only. Any action taken by readers on information found on our website is strictly at their own risk.