Apcoin has seen a steady improvement for the past 3 weeks. Although the token has managed to gain some demand, it has largely gone sideways. But despite this, the APE is still buried below an important resistance level. Could it trigger more vulnerabilities? More details are below, but first, the highlights:
Apecoin has lost the $7.37 support area in recent days

This fall could trigger another 15% drop in the near term

But today's daily close above $7.37 would invalidate this analysis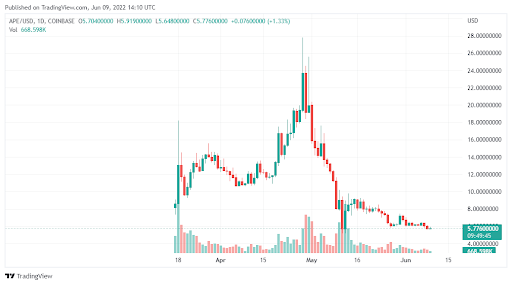 Data Source: TradingView
Where will APE go from here?
Apcoin bulls need to be patient for now. The coin is weak, and we do not think the downtrend seen in the last 3 weeks is over. In fact, we expect the APE to bottom out around $4.92 before another leg up. In fact, this would not be the first time the coin has been able to find demand at this price.
The panic selling phase in early May put a lot of pressure on the APE. At a time when volatility dominated, the coin established a range between $4.93 and $7.37. We think this pattern will likely continue. But there could be more upside if the APE indeed breaks the $4.92 mark.
The last time this happened, the coin had a sharp rebound and was up around 104% in a matter of weeks. While there may not be a 104% increase this time around, APE will still provide that much leverage if it consolidates at $4.93.
How to trade this setup
There are two options here. Firstly, you can wait to see if APE is able to reclaim $7.37 in the coming days. If this happens, a short selloff could occur in the near term.
But the best upside remains with the $4.93 low. The coin will likely hit this support and strengthen there. This would be a good entry for the bulls.